Human resources (HR) is one of the most exciting applications of technology. HR tech is a fast-expanding area and businesses of all sizes and from all sectors can reap the rewards, especially in recruitment. Let's take a look at how companies are leveraging HR tech to enhance the recruitment process and drive business success.
HR tech is big business. The future of work is inextricably linked to technology and taking advantage of this brings benefits to both a company and future employees.
A major role of any HR department is recruitment. Using HR tech can not only help companies secure the very best talent, it can provide invaluable assistance during the various stages of recruitment, from vacancy to on-boarding.
You're probably already tracking your cost-per-hire rates, and you'll know that this is a key metric for HR teams. Substantial recruitment costs makes employee retention all the more important once you complete the recruitment process. That's why it's important to recognise and address your employee needs.
The use of HR tech helps businesses by minimising costs, saving time, and ensuring that you hire the right person for the right position right from the beginning. Here are some of the top examples of HR teach at its best:
1. Recruit using innovative employee benefits
When it comes to attracting the top talent to your company, it's not all about the salary. Potential employees are also interested in the employee benefits that are on offer. It's these employee benefits alongside the salary that create the whole package.
Positioning yourself as a company that has enviable employee benefits makes you more attractive to potential employees. We've uncovered some of the best employee benefits that you can offer:
Subscriptions to apps that promote mental health and wellbeing, for example Headspace
The opportunity to work remotely
Providing tech tools that allow employees to manage their money, for example budgeting apps
Enrolling employees into saving schemes
Allowing employees flexible access to their pay through services like Openwage
Employee benefits linked to finance can have a major impact on recruitment and retention. However, while many employers are addressing the need to focus on their employees' health and wellbeing, financial wellbeing is often overlooked.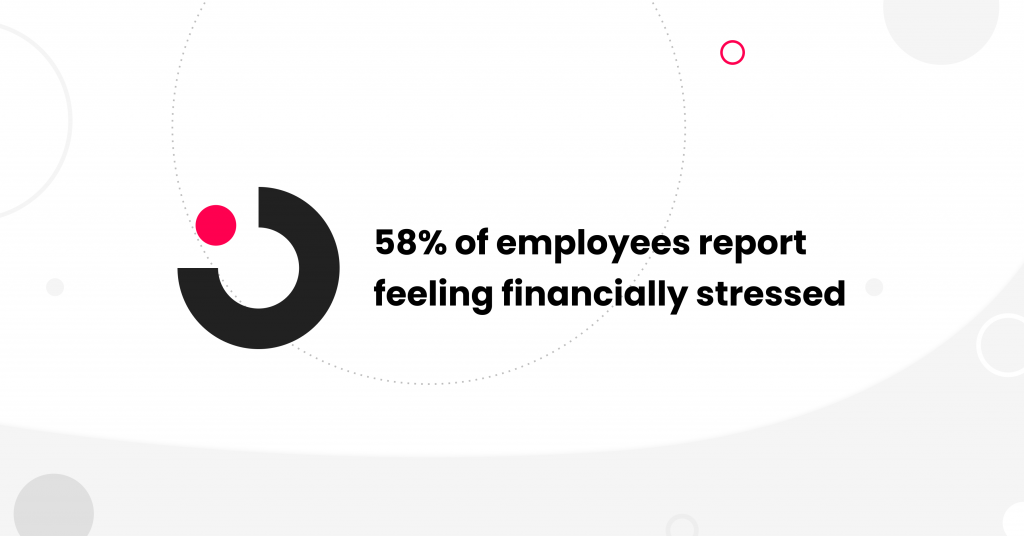 Such high rates of financial stress will inevitably have an impact on employees' work performance. Being distracted and using work time to manage their financial affairs can be the result. Even more worryingly is that financial burdens impact our mental health too.
That's why employee benefits that promote financial wellbeing like pay advance schemes are rising in popularity. Solutions like Openwage allow your employees to access their pay when they need it, for example for an unexpected bill or emergency repair.
By taking steps to improve your employees' financial wellbeing, you are likely to see a positive change in your teams. Without the distractions and worries of financial burdens, they can focus more on their work, bringing a productivity boost and the benefits associated with this.
2. LinkedIn: A recruiter's dream (when leveraged correctly)
Often referred to as the business version of Facebook, LinkedIn is an invaluable and incredibly powerful tool in terms of HR tech. There are several ways that this platform can assist you and we've outlined the top ways you can leverage LinkedIn for recruitment:
Showcase your company
An effective LinkedIn company page brings many benefits. It may be the first impression a potential candidate has of your organisation. It's also a chance to make your company shine and communicate the best things about working for you.
Ensuring that your company page is professional and appealing can encourage potential applicants to take the next step. Don't forget to communicate your ethos and the story behind your company too. Employees love working for companies that do social good.

Recruit using LinkedIn groups
When you're looking to recruit, you need to encourage talent to come to you.
Understanding how LinkedIn groups work means that you can post a job vacancy and be more confident that you'll receive enquiries and applications from the right people.
Knowing the types of groups that your ideal candidates are likely to be members of can give your recruitment drive a real boost. But be sure to check the rules of any group you want to post in, so that you don't break LinkedIn group etiquette.
Consider LinkedIn premium
While LinkedIn is free, there is the option to upgrade to the premium version. This allows you to carry out highly targeted searches meaning you can find the best potential candidates.
LinkedIn Premium also allows more freedom when it comes to sending messages. In fact, LinkedIn states that 87% of passive candidates are open to a new opportunity. Using premium allows you to access this untapped resource.
3. HR chatbots: On-brand, time-efficient communication
HR tech has developed to the stage where chatbots are now a vital element of the recruitment process. This is an area that is superbly suited to chatbots and an excellent application for this new type of technology.
Any HR professional will agree that when it comes to recruitment, basic tasks put a drain on the majority of their time. Answering routine questions and keeping people informed about what stage of the recruitment process they've reached are two of the most time-consuming tasks.
Communication is of course an essential part of recruitment, but also very time-consuming. This means that there is less time to focus on the strongest candidates and to ensure that they are the right fit for the company.
HR chatbots can increase productivity in HR teams, but also have wider benefits for your company and candidates too.
Answer routine recruitment enquiries
If a potential candidate has a basic query relating to employee benefits or the salary, wouldn't it be better if you could automate these responses? This is where chatbots come in.
By using chatbots to respond to routine questions, you could focus your time and energy on more important aspects of recruitment like candidate interviews. HR chatbots can be programmed to respond to a whole host of questions relating to your company. They can also provide answers to candidates' questions about the job itself.
When leveraged correctly, HR chatbots used in this way can ensure every candidate receives accurate and on-brand information.
Respond to screening questions
Screening candidates allows you to focus on the best candidates for the role. Importantly, this process also allows employees to screen your company, to see if the role matches their needs and skillset. No candidate likes to waste their time on a job application for a role that simply isn't right for them.
An effective screening process saves time and effort on both sides – the company and the candidate. Using a chatbot to manage basic screening questions can be a huge time saver for your HR team and gives candidates a professional impression of your company.
The onboarding process
If you want employee engagement and high levels of retention, the onboarding process is vital. We are not suggesting that this be carried out by a chatbot. The human element is critical for new starters to feel part of the company and it cannot be replicated by a chatbot.
However, for basic queries that new employees have, for example regarding policies, a chatbot can be a major help. This is especially valuable for aspects of a new job like the pension scheme where providing easy-to-understand and correct information is imperative.
4. Recruitment automation: Enhance the employee experience
Automating processes always leads to increased efficiency. HR tech has now made this possible for recruitment too.
The future of work deploys automation to give a better employee experience as well as saving time and effort for HR teams. These are the ways that automation can be used to best effect:
Pre-screening and ranking information
Rather than face hours of wading through CVs when many will be entirely inappropriate, you can use HR tech to pre-screen your applicants.
Using set questions, you can filter down to the candidates where a physical review of their CV or LinkedIn profile and cover letter is worthwhile. Some HR software will also rank the candidates according to the answers that they have provided to allow you to prioritise.
Recruitment process updates
Keeping candidates informed about where their application is in the recruitment process is simply a courtesy we all expect. No candidate likes to feel forgotten about, whether they end up joining your organisation or not.
New employees and even candidates could post reviews your application process in public forums and even social media. Candidates may even assume you're not interested in they haven't heard back promptly after applying. So you should prioritise giving your candidates a positive and timely experience.
However, communicating with every candidate is arduous and time-consuming.
Automated emails save you time, give candidates a good impression of your company, and ensure they don't leave the process because they think you're not interested. They also keep candidates updated in real-time and make them feel valued by your company.
Employee checks
There are job roles that require certain information from their employees. This might involve HR requesting numerous financial or DBS checks on every new joiner.
New employee checks are another activity that could easily be carried out more efficiently using HR tech. This frees-up your HR team to work on other areas.
5. Artificial intelligence (AI): A data-first approach to recruitment
AI has long been a part of our lives. Where it is now being leveraged to great effect is in recruitment.
Using AI allows HR teams to save time and help with decisions. Here are some of the ways that AI can be implemented in recruitment:
Pre-screening
AI can be used to examine applications and extract data points. By understanding the requirements of the vacancy, AI focuses on keywords, key phrases, and anything else that it is asked to do. This saves the need to filter through endless CVs to find the right candidates to interview.
Removal of bias
HR tech removes part of the human element and because of that, human bias. We all have biases, but they differ among every one of us. Interestingly, we are often unaware of our biases, but they influence our decisions.
Using AI in the recruitment process removes biases and ensures fairness. AI is not there to replace recruiters, only to enhance the process.
Interview screening
Where HR tech can really come into its own is the analyses of a candidate's interview. AI can pick up on a candidate's tone of voice and even their body language. Analysing such aspects can give a fuller picture of the candidate in front of you and help you make decisions about which candidates to move forward with.
6. Remote interviews
The pandemic has caused video meetings to skyrocket, and this has also been the case with interviews.
Video calling allows you to conduct interviews without requiring the candidate to travel to your place of work. This saves your candidates both time and money. Importantly, it also brings benefits to your company too.
Knowing that there is no need to travel for an interview can encourage the very best talent to apply for a position, regardless of distance.
Your company could be missing out on the best candidates purely because of how far they would need to travel for the interview. If they don't get the job, they feel they have wasted their time and money.
Remote interviews conducted by video make your company accessible and encourage applications. This opens your company up to a global workforce.
The future of work
The future of work involves the use of technology to a greater extent than we are yet to experience. Yet already HR tech is revolutionising the recruitment process for organisations, effectively streamlining it and improving efficiency.
Recruiting the wrong person can be a costly mistake in multiple ways. That's why it's important to deploy the right technologies in the most appropriate way. This will not only save you time and effort, but also minimise the chances of making a poor recruitment decision.
Check out our other articles on our blog page and follow us on social media to see our latest articles, insights, and company news.